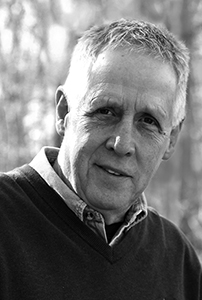 Frederick C. Graff is one of the foremost watercolorists of today. He is a Signature Member of all three major watercolor societies: American Watercolor Society "Dolphin Fellow"; National Watercolor Society; and Transparent Watercolor Society of America "Distinguished Master". He is also a Charter and Signature Member of the Ohio Watercolor Society and a longtime member of the Whiskey Painters of America. His continuous growth and development in his pursuit of watercolor has enabled him to be a leading artist/educator in the field of watercolor painting.
Artist's Statement:
"When an artist understands the basic principles and elements of design, the subject matter becomes unlimited. The selection of my subject matter is determined by my immediate response to the subject and its surrounding environment. It is essential that I go beyond the level of just recording facts. It is my intent to convey a spontaneous response in an unrestricted yet semi-controlled manner. This approach to watercolor painting lends itself to a unique and unpredictable experience. This state of uncertainty compels me to further explore the world of watercolor. It is always my intent to challenge and express myself in an honest, expressive and creative manner."
Upon graduation from Miami University, Fred studied privately with the late Franklin A. Bates. He pursued additional graduate work at both Kent State University and the University of Akron. In addition to being a retired art teacher for the Berea City Schools, Fred has been conducting numerous watercolor workshops, demonstrations, and critiques throughout the United States, France, and China, where he had a one-man exhibition in Qingdao, China. His work has been featured in Watercolor Techniques For Releasing the Creative Spirit; Creative Watercolor Workshop, International Artist (February/March 2002), Watercolor Artist Magazine (February 2014, June 2015) and many other publications.
His diverse approach to watercolor painting has continued to attract individual and corporate collectors, including: Bank One; Wausau Insurance; General Tire; Mobay Chemical; Dayton Citizens Federal; Cambridge Savings and Loan; Guernsey Savings and Loan; Akron Beacon Journal; Key Bank; Zanesville Art Center; Southwest General Hospital; Sargent-Laessig Museum of Fine Arts; and many other corporate and private collections.
EXHIBITIONS AND AWARDS
AMERICAN WATERCOLOR SOCIETY
AWS Gold Medal of Honor
AWS Bronze Medal of Honor
Elizabeth Callan Medal
Winsor & Newton Award
Bud & Gretchen Marble Medal
Millard Sheets Memorial Medal
Emily Goldsmith Award
Achieved status of Dolphin Fellow
TRANSPARENT W/C SOC. OF AMERICA
Achieved status of Distinguished Master
(2) Maurice Prendergast Awards
(2) Winsor & Newton Awards
C. R. Williams Award
Award of Excellence
G. J. Slade Merit Award
Du Page Art League Special Merit Award
Madge Macfarlane Memorial Award
ADIRONDACKS NATIONAL EXHIBITION OF AMERICAN WATERCOLORS
Tina L. Wolfe Memorial Award
Exhibition Award
Realism in Nature Award
Forest Runes Award in Memory of Scott Stuart
Pulsifer Award
BUTLER MIDYEAR NATIONAL
SHENZHEN INTERNATIONAL W/C BIENNIAL
ALLIED ARTISTS OF AMERICA EXHIBITION
NATIONAL WATERCOLOR SOCIETY
International Soc. of Experimental
Artists Award
Combined Donors Award II
Honorable Mention (China Exchange Exhibition)
Stan Green Arts & Educ. Purchase Award
OHIO WATERCOLOR SOCIETY
(4) Gold Medals
(3) Silver Medals
(3) Bronze Medals
(2) Larry Joyce Memorial Awards
Win Dodrill Memorial Award
Moon Mask Award
Inveresk Paper Award
North Coast Award
The Artist's Magazine Award
Award of Distinction
Transparent Watercolor Soc. Award
Merit Award
OWS Jim Brower Lifetime Achievement Award
SIGNATURE AMERICAN W/C EXHIBITION
The Fallbrook Arts Inc. Award
Tom & Sharon Koehler Landscape Award
Cheap Joe's Award
VIEWPOINT NATIONAL EXHIBITION
2nd Place Award
John Crain, Best of Watercolor Award
Ray Loos Watercolor Award
Chairperson's Award